Mr. Sam Falzone
12/20/1933 - 9/22/203 Rest in Peace Sam
Click for Obituary
Sam spent some quality time in California in December 2005 to jam again with his old friends from the Don Ellis Orchestra and enjoyed seeing some of his family again. Here are a few pictures that were taken during this memorable trip. Enjoy.
---
From John Vizzusi - Elecric Heart Filmaker
Sam Falzone - The Way I knew of him!
Sam was a man I needed to find in order to complete my Documentary Film ELECTRIC HEART, The Story of Don Ellis.
Milcho Leviev gave me his phone number and we setup to meet in Buffalo at his home. When I walked into his Dining Room he had laid out on the large table every single piece of Don Ellis memorabilia regarding Don Ellis he possessed. It was a emotional time for both of us, he brought out a Bottle of Jack Daniels and we toasted Don Ellis. We went outside to his deck and talked for an hour about his years with The Don Ellis Band. His incite was simply incredible. Next we setup his testimonial shoot in his music room. I had to cut a few times because Sam was very emotional about Don Ellis. You see, Sam had dedicated himself unselfishly to the remembrances of Don Ellis excluding his own incredible musical talent for the sake of his best friend Don.
I remember Sam for offering his time, his gracious hospitality and his memories on-camera and off on the genius of Don Ellis. Thanks Sam.. I won't ever forget that day in Buffalo.
John Vizzusi, Filmmaker ELECTRIC HEART don ellis
www.donellisfilm.com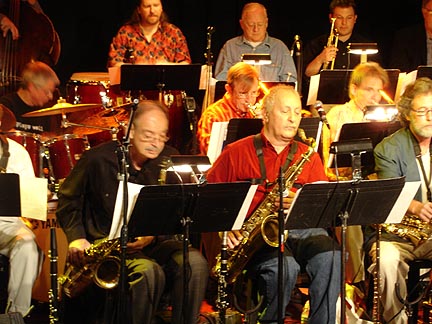 Sammy (front, in red) Getting Ready!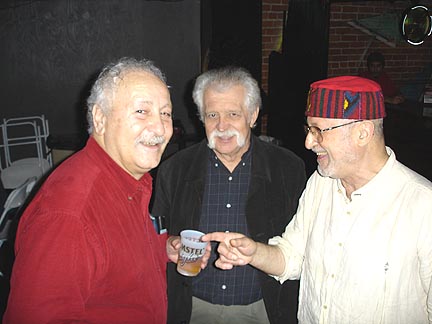 Sam, Friend & Milcho Leviev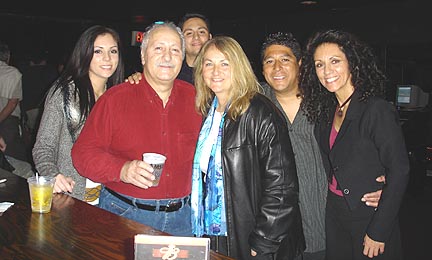 Chelsea, Sam, Anthony, Niki, Ricky, Lori
---
A Family Sweet
This collection of instrumental stand-outs combines elements of standard jazz, up tempo latin rhythyms and just plain catchy melodys. The band is comprised of some of the best jazz musicians that Western New York has ever produced. Originally released on vinyl in 1988, the recordings were digitally re-mastered and the album was re-released on CD in 2001.
| | |
| --- | --- |
| | |
| "A Family Sweet" | Sam's Best Friend |
Personnel

| | |
| --- | --- |
| Sam Falzone | tenor sax, alto sax, soprano sax, flute, keyboards & compositions |
| Jim Kurzdorfer | bass |
| John Bacon, Jr. | drums & percussion |
| Michael Royal | keyboards |
| Stu Weissman | guitars |
| Emil Lattimer | percussion |
| Jeff Jarvis | trumpet, flugel horn |
| Phil Sims | trombone |
| Carol McLaughlin | alto sax, flute |
---
A Note From Sam:
I have been writing various kinds of pieces since I met Don Ellis in Buffalo in 1965 (U.B. grad school) when he inspired me to write original material. Before then I had been teaching music in junior and senior high schools across the country, never thinking that I could write my own music. I have written a song for everyone in my family, including my cats. When I went to California to join Don and his orchestra I could write just about anything I wanted to, and the band was so hot they could sight read and make it sound great.
Since my father's death in 1970, I have wanted to make a collection of some of my songs as a tribute to him and to my family, which is composed of numerous Sagittarians. "It's in the Stars" is a poem I wrote for my father which started a whole series of pieces that became A Family Suite. The taste for sweets, also a family inclination, seems an appropriate title for this very personal first album.
My roots in Buffalo and the years with Don Ellis in California have given me the direction to write these songs which can be used as a vehicle for improvising.
This album is dedicated to my father and mother, Joseph and Frances Falzone.
Their love and understanding have kept me going all these years.
Special Thanks to my sisters Mary Yantomasi, Vivian Maier and Sue Fenger, who gave me all the love and support I need to accomplish this project. I thank Debra Stratton for helping me all along the way and keeping me together. I especially thank my children, Michael, Lori, D.J. and Niki, who have been an inspiration to me from their beginnings. Also, I want to thank my friend and co-worker, Tom Mayers for his positive attitude and energetic good nature throughout this project. My sincere gratitude is extended to Stan Lipsey, publisher of the Buffalo News and to the Albright Knox Art Gallery.

---
Jim Patrick's Comments
Niagara Falls notwithstanding, there are some of us in Buffalo who insist that Jazz is Western New York's greatest natural resource. Around here jazz is not just music or mere entertainment. In the good times and the lean, it has also served as a voice for the aspirations, pleas, hopes for, and pride in this community - an expressive embodiment of our vitality.
For decades, the Buffalo landscape has been dotted with scores of excellent jazz musicians. A few are famous or nearly so - Pete Johnson, Mel Lewis, and Grover Washington, Jr. Many, many others have worked with the most important figures and ensembles in jazz - Eubie Blake, Louis Armstrong, McKinney's Cottonpickers, Don Redman, Count Basie, Woody Herman, Stan Kenton, Maynard Ferguson, Charlie Parker, Dizzy Gillespie, Thelonious Monk, Art Blakey, Charles Mingus, Billie Holiday, Ahmad Jamal, and McCoy Tyner (to name a few). Yet others have kept the home fires burning.
Sam Falzone is very much a part of this tradition. Born in Buffalo, in 1933, Sam's first three decades were shaped almost exclusively by the rising and falling fortunes of Western New York. A product of the public schools, the U.S. Air Force Band, Fredonia College, and, most importantly, a fiercely competitive local jazz scene, Falzone emerged as a first class tenor saxophonist in the robust mold shared by other regional products such as Don Menza and Sal Nistico. While employed as a school teacher in 1965, Falzone met Don Ellis who was in residence at the University of Buffalo - a meeting that would rechart Sam's life for the next twelve years.
Ellis encouraged Falzone to begin writing and invited him to join his orchestra, for which he was to serve as performer, composer, and road manager from 1965-1976. The Don Ellis Orchestra not only was one of the most exciting and persistently innovative large jazz ensembles of the time, but also attracted a large and enthusiastic following. Falzone was frequently featured as a soloist ("Salvatore Sam" on Live at the Fillmore, "Pussy Wiggle Stomp" on Autumn) and composer/arranger ("Get It Together" on Tears of Joy, "Go Back Home" on Soaring, "Put It Where You Want It" on Connection). Along the way, Sam performed at the world's major jazz festivals (Newport, Monterey, Concord, and Antibes), appeared on several network TV shows (Merv Griffin's and Ed Sullivan's among them), and was heard on the soundtracks for major motion pictures (including The French Connection and The New Centurians). In addition, he also worked with Lionel Hampton, Benny Goodman, Buddy Rich, Louis Bellson, and the rock group Steppenwolf. Ellis suffered a serious heart attack in 1975, which marked the beginning of his end (he died in 1979) and the end of the orchestra.
Falzone returned to Buffalo in 1978 and formed The Buffalo Jazz Workshop, a unit he has led ever since and which has included many of the very best jazz musicians in the Buffalo area. The ensemble presented here is the current edition of The Workshop. While the ages and individual approaches are diverse, all of these performers are seasoned professionals, several being leaders of their own flourishing groups. Both Jim Kurzdorfer and Emil Latimer appeared on the first recordings of Spyro Gyra - probably the most commercially prominent of all Buffalo spawned bands. Jeff Jarvis and Phil Sims are veterans of the Tommy Dorsey Band, and Sims is also the leader of an excellent big band, The Buffalo Brass. Both John Bacon Jr. and Carol McLaughlin lead successful groups: Bacon, Multi-Jazz Dimensions (Recently recorded and released by Mark Records) and McLaughlin, Magnitude (the long running house band at Buffalo's famed chicken wing emporium, the Anchor Bar). The superb pianist Michael Royal performs in many contexts, but is heard to best advantage with his own trio and his Western New york Jazz Quartet. As befits his reputation, Stu Weissman is one of Buffalo's busiest and most sought after guitarists.
The music here can eloquently speak for itself. I might simply say that it is somewhat less a showcase for Sam's considerable performing abilities than an impressive display of his diverse compositional talents. Although the pieces are basically vehicles for solo improvisation, they contain interesting and often intriguing part writing for the band. Stylistically, they run a gamut embracing funk blues, waltz, latinesque, calypsoesque, and the jazz ballad.
A FAMILY SWEET can hardly be considered Sam Falzone's "arrival." After so many recordings with other musicians, he has finally given us his own album. For that we can be grateful. It's about time.
James Patrick
James Patrick, is a 1980 Grammy Award winner, is currently Director of Jazz Studies at the State University of New York at Buffalo and President of the Western New York Jazz Society.
---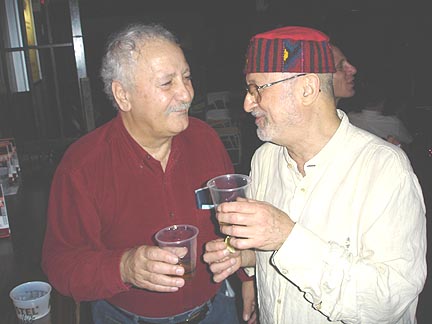 Sam & Milcho Leviev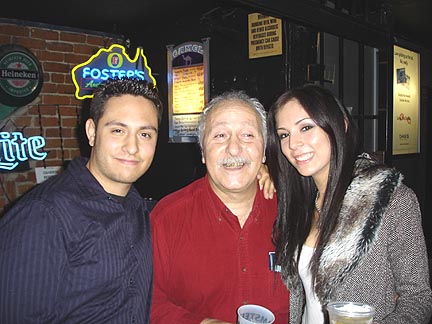 Anthony, Sam & Chelsea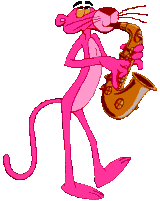 Everybody's Favorite Sax Player
We Miss You Sam!

Home | About Us | Contact Us | Photo Gallery | Albums | Jingles | Wedding Songs | Links